About two months ago, I received an email from a woman who had seen our website on Facebook  .  When I took the call, I had no idea that I would be meeting such an incredible gal.  She reached out looking for someone to help coordinate a small and intimate wedding shower that she was going to be hosting for a family member.
We scheduled a time to meet and I met her in her home.  We discussed what she was looking for…"personalized*special*unique* fun*contemporary" were all the words that came up in our conversation.  I also learned that the family has a true love for wine…and from that moment, the theme was born.
About a week later, I came back with some ideas to present to this special lady.
I had found the style of invitation that was encompassing of the wine tasting theme and it had a modern style.  This invite set the tone for the event.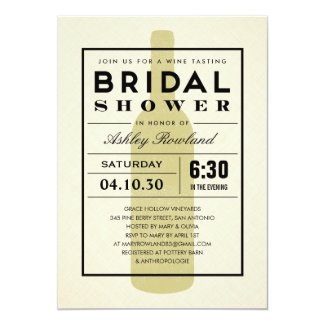 Modern Wine Bridal Shower Invitations
by
UniqueInvites
View Wine tasting bridal shower Invitations online at
zazzle
I had spoken with a winemaker in town and they recommended some great summer wines to be paired with the meal that was planned.  It included a Michigan salad, chicken picatta, and some roasted redskin potatoes.
The wines were selected and custom wine labels were crafted noting the date of the upcoming wedding.  We went with a Pinot Grigio, Muller Thurgau, a crisp Cucumber Melon, and a Pinot Noir to finish.
I shared with her that we could have custom chalkboard wine glasses that I painted and the girls could each write their names on them.
White hydrangeas and mums were the flowers of choice and they would be displayed in gold toned vases placed on the tables and in the kitchen.  The day before the shower, I purchased 8 dozen blooms to make sure we had flowers everywhere.
Gold chargers would be the platform for white china and lace-trimmed,white, cotton napkins tied simply with black and white string.  I placed the table settings on a chalkboard fabric table runner where I had written the couples' name and wedding date.
We set up a wine tasting station in the kitchen where all the wine glasses were placed, along with the wine bottles for tasting.  What the guests didn't know is that their amazing host purchased a bottle for each one of them to take home!
I thought it would be nice to have a keepsake for the bride from the special day.  I found this glass display board.  Each guest wrote sweet words of advice on scalloped white tags for the bride and groom.
I'm hoping my wonderful client was happy with how things came together for this lovely bride-to-be.  I had so much fun helping putting everything together for this special event.
Cheers to many years of happiness for the bride and groom.
Make it a great day!
Kellie